Upcoming Google report changes - 12/Oct/2023
Due to recent changes to Google's application verification process, we will be making some changes to our Google Drive integration for Google reporting. For most of you, these changes won't be visible and won't affect your day to day usage or your reports going out to your customers, but for those of you more involved in creating and maintaining your own reports, there'll be some important changes you'll notice.
What's changing?
These changes largely center around limiting the amount of access our app has with your Google Drive accounts for security and privacy reasons. So going forward, Utility Cloud is only going to be able to use Google Sheets created from our application instead of ones you've created in your Google Drive.
If you don't make regularly changes to your sheets used for Google reporting yourself, then you shouldn't notice this at all. For all of our customers using Google reporting, we'll be copying and migrating existing sheets so that they originate from Utility Cloud and can continue to be used as normal.
For those of you that do regularly make changes to your Google Sheets for reporting yourselves, once we've been migrated you'll see these new sheets in your Drive with the same name, but with the words "UtilityCloud_App_" at the start of the file name. So if your sheet was previously called "My Google Report", you'd see a copy called "UtilityCloud_App_My Google Report". Once that migration is completed, you'll just need to make sure whenever you're updating your reports that you're using these new migrated ones.
Because sheets will have to be created and linked from Utility Cloud first instead of being created directly in your Drive, we've added a new option to send a sheet from Utility Cloud to Google when editing your Google report settings on a workflow.

From here, just select Create Sheet in Google, and once you enter your sheet's name and select an account, it'll be created in the Drive account linked with the Utility cloud account you selected the name you entered followed by a timestamp.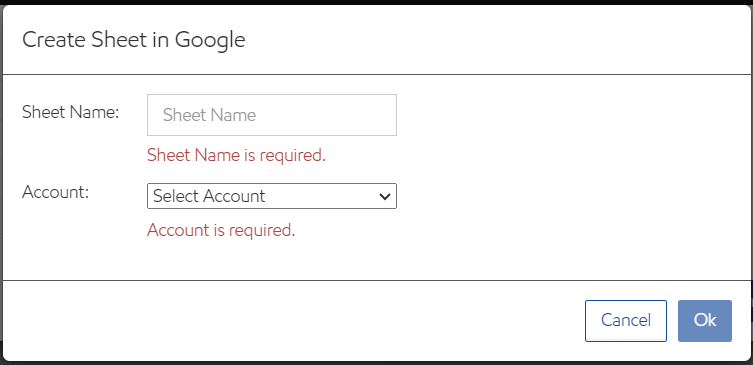 When will I see these changes?
We'll be migrating any currently existing sheets to copies a week from today on October 19 and releasing the updates to create sheets from UC the same day. Once these changes are made, we'd just like you to make sure that any changes you make to your Google reports be made in the new migrated sheets, and that any new reports be built in sheets created from Utility Cloud instead of your Drive.
We'd also ask that, once these changes are made, you unlink and relink your Google Drive account on the Account Details page of your accounts in Utility Cloud.
If you have any questions for us around these changes, feel free to reach out to us through the AMCS Support Portal, our support email address at supportus@amcsgroup.com, or our general support number at +1 (800) 962-9264.